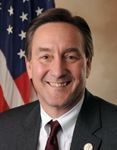 Press release from Congressman Rick Berg:
Washington, D.C. – Congressman Rick Berg today commended the Army Corps of Engineers' decision to approve the Chief's Report for the Fargo-Moorhead flood protection plan, which was signed this morning by the Acting Chief of the U.S. Army Corps of Engineers, Major General Merdith W.B. Temple.
"Without permanent flood protection in place, families and businesses in the Fargo-Moorhead region will continue to battle regular floods and face tremendous uncertainty as they work to plan for the future," Berg stated. "Permanent flood protection for the Fargo-Moorhead area must be a priority and the Corps' approval of this report is a critical step in moving forward with the locally preferred flood control plan. Providing the Fargo-Moorhead region with permanent flood protection is critical to protect these communities as much as possible against the threat of future, devastating flood events and give these residents the certainty and security they need."
Berg has actively pressed the Corps to approve the locally preferred permanent flood protection plan. In September, Berg joined members of the North Dakota and Minnesota Congressional delegations in sending a letter to President Obama in support of the flood protection project. The delegations urged the President to include $30 million in his Fiscal Year 2013 budget to advance the plan.
Berg commends Corps approval of Red River Flood Control Plan