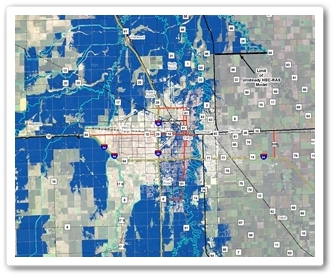 Maps shown recently at public meetings, and posted on fmdiversion.com, show in detail what a 100-year flood and a 500-year flood would look like in the greater Fargo-Moorhead area, both today, and with the F-M Area Diversion Project in place.
The maps offer a way for users to see the effective flood protection the Diversion Project would provide against severe flooding the likes of which we have not seen in our lifetimes, but which experts say is possible. A greater number and higher severity of major floods in recent years has led to a wider fluctuation in flood frequency. This indicates a regional transition from a dry cycle to a wet cycle.
100-year flood
The current Red River flood of record in Fargo-Moorhead, the 2009 flood, is considered a 50-year flood event. In 2009, the Red River peaked at 40.8 feet.
The Diversion Project would reduce a 100-year flood event from 42.4 feet to 35 feet at the Fargo gage.
View the 100-year maps at these links:
100-Year Flood With Existing Conditions
100-Year Flood After Diversion Project Completion
500-year flood
A 500-year event would flood nearly the entire city of Fargo and a large portion of the city of Moorhead, as well as a major portion of West Fargo and several surrounding communities in the area.
Though not designed to prevent a 500-year flood event, the Diversion would give the area a chance by reducing the river level in Fargo from 46.7 feet to 40 feet during a 500-year event.
View the 500-year maps at these links:
500-Year Flood With Existing Conditions
500-Year Flood After Diversion Project Completion
Extreme flood events do, and can, happen, as evidenced by the flood events of 2011 on both the Missouri and Souris Rivers in North Dakota. An extreme flood event on the Red River near Fargo is not an unrealistic event, given the regional wet-cycle and recent flooding issues experienced throughout the region.
As the comparison maps show, the Diversion Project is needed if we are to survive the kind of flooding that is possible in the Fargo-Moorhead area.
Similar Posts: