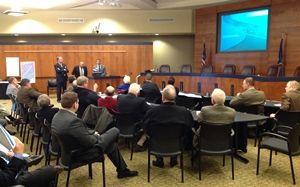 Representatives from the City of Fargo and Cass County hosted an open house to brief area legislators on the FM Area Diversion Project on November 20.
The lawmakers who attended received updates on the new Diversion alignment, Project features, operational impacts, and financing.
The legislators heard an optimistic projection on funding. Diversion Authority member and Fargo City Commissioner Tim Mahoney reported on a meeting that took place in Washington D.C. last month in which the Authority received an optimistic outlook on potential Federal authorization, which could provide up to 800 million dollars in federal funding for the Diversion Project.
Similar Posts: