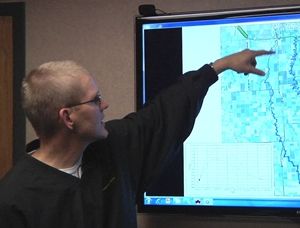 A new set of map animations show which areas in the upstream Staging Area would be affected during various hypothetical flood events.
In a video posted on the FMDiversion YouTube channel, Civil Engineer Gregg Thielman, PE, a Senior Project Manager on the Diversion design team, walks the viewer through four animations which show the water levels in the Staging Area through a 100-year, 50-year, and 10-year hypothetical flood event. All the animations include data from the diversion alignment endorsed this month by the Diversion Authority and the U.S. Army Corps of Engineers, river flows through Fargo-Moorhead to a 35-foot stage, and gates on the Diversion?s inlet structure.
The video may be viewed at this link.
Please note the following:
* Each time the screen changes is a 12-hour time increment
* Blue areas represent areas that would be flooded under existing conditions (no Diversion Project in place)
* Red areas show additional areas flooded with the Diversion Project in place
Additional items of note:
* The 10-year flood simulation shows no impact to the staging area
* Red areas show additional areas which would be flooded
* Blue areas are areas that already flood today without the Diversion Project, but may have greater flood depths with the Project
* When data from historic summer floods was considered, models show the Staging Area would not have operated during any summer flood in recorded history
Similar Posts: