Leaders of the Fargo-Moorhead area joined together today to celebrate the completion of work on the 2nd street floodwall project.
The project was officially finished today and 2nd St. north of 1st Ave. reopened shortly after the ribbon cutting An aerial view of the new floodwall running along 2nd Street in Downtown Fargo ceremony.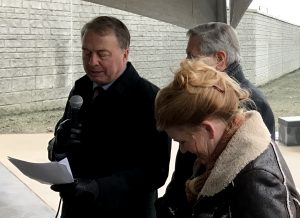 "This is a major accomplishment," Fargo Mayor Tim Mahoney said. Mahoney noted that clay levees were built along 2nd street 13 times during past flood fights. The project to build a permanent floodwall was finished on time and under budget and makes the Fargo-Moorhead community a safer place to live, he said.
"We are on our way now," Sen. John Hoeven said, during the event. "We are authorized and have an appropriation. We will be working on getting more appropriations. We cannot stop. We have to get permanent flood protection for our region."
Cass County Commissioner Mary Scherling noted the project allows 35 feet of water to flow safely through town during a 100-year flood event and up to 40 feet during larger events, thereby reducing the frequency of the use of the staging area during catastrophic flooding. Cutting the ribbon for the reopening of 2nd Street in downtown Fargo.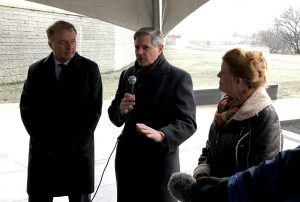 "This project is part of providing certifiable protection from 100-year flood events," she said.
2nd street has been closed since October of last year. The floodwall project included floodwalls, a pump station, realignment of the road and the demolition of buildings in the path of the realigned road. In total, almost five million pounds of rebar and 19,000 cubic yards of concrete were used in the project.
More than 40 people attended the ribbon cutting event including Diversion Authority board members, Fargo and West Fargo Chamber of Commerce members, members of the media, construction firms that worked on the project, and representatives from Sen. Hoeven's, Sen. Heitkamp's, and Rep. Cramer's local offices.